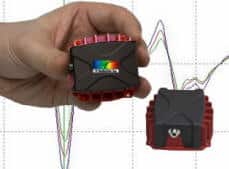 Micro NIR Spectrometer Features
Measurements from 1750-2150nm
MEMs improved performance over arrays
SpectraWiz Software Suite
Full spectrum OR selectable wavelength
OEM and NIR sensing applications
Range 1750-2150nm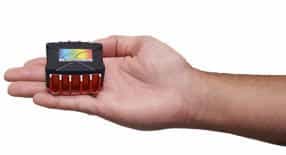 The RED-Wave-Micro spectrometer is designed for OEM and sensing applications in the near-infrared spectral region. This miniature MEMS spectrometer covers spectral regions where InGaAs linear detector array technology lacks sensitivity and optical throughput. These micro NIR sensors are the perfect solutions for demanding NIR applications and light measurement >1700nm.
These RED-Wave-micro spectral sensors overcome the limitations of traditional linear array based spectrometers by utilizing innovative MEMS based Fabry-Pérot tunable filter technology. Due to their compact size and low cost, they are an ideal solution for advanced sensing application. These spectral sensors are designed for harsh industrial applications and they offer extreme ruggedness even in the most demanding environments.
---
Perfect for OEM & NIR Sensing
Compact just 1.5×1.5×1" and robust
MEMs improved performance over arrays
SpectraWiz & Customizable SDK
Low power consumption
OEM high volume capabilities
Full spectrum OR selectable wavelength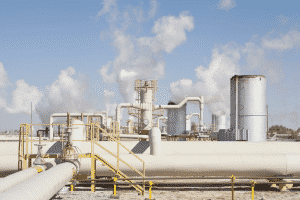 NIR-Micro Applications
Moisture
Ethanol
Polymers
Hydrocarbons
Agriculture and Food composition
CO2
Pharmaceuticals
RED-Wave-MICRO                                                                           $8,699
Detector type:               Single element extended InGaAs
Signal/Noise:                       5000
Spectrometer range:     1750 – 2150 µm  (other ranges available)
Power consumption:           < 1.5 W
Spectral Resolution:      10nm
Size:                                   58x 57x 27mm
Spectral element:          MEMS Fabry-Perot Interferometer
Weight:                               < 125 g
Dynamic range:             10,000
Optical interface                 SMA905
Integration time:             0.1ms-10ms
Interface:                             USB2
Digitizer Resolution:      16bit
Software included:             SpectraWiz Suite
RED-Wave Micro Sample Spectra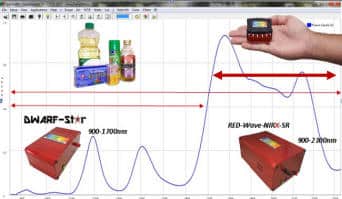 Free SpectraWiz Software

The powerful SpectraWiz® spectrometer software is provided free of charge with every spectrometer instrument. This includes drivers and customizable software for Windows. The SpectraWiz software is considered the "Swiss Army Knife of Spectroscopy" and may be used to accurately measure wavelength emissions, reflectance, transmission, absorption, concentrations, and absolute intensities. In addition to real-time spectroscopy, SpectraWiz® has built-in applications for SpectroRadiometry, SpectroColorimetry, ChemWiz chemistry lab concentration analyzer, and UV level monitors.
Download SpectraWiz Software FREE
Optional Configurations
Coming soon! Units may be daisy chained via USB-2 hub allowing simple configurations for dual and multi-beam process applications.
Technical Information Request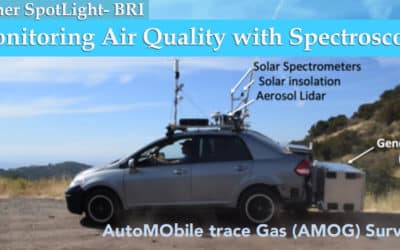 For air quality testing, Bubbleology Research International (BRI) provides a spectroscopic and in situ solution on a mobile platform that leverages the strengths of traditional sampling methods – the mobility of satellite measurements with the...
read more