RS50 is a 50mm diameter white reflectance standard made of Halon. It is used to take reference measurements using the R600 Reflectance Probe. The white standard will reflect >97% of the light from 300-1700nm.
RS-HR High-reflectivity Specular Reflectance Standard is a mirrored, fused-silica standard that can be used as a reference when measuring surfaces with high specular reflectance such as optical substrates, coatings, and metals
TF-STD1 Thin Film standards for thickness measurement verification. Includes Si substrate for reference with 2 additional substrates with 100nm and 1000nm thickness of SIO2. Additional thickness standards (10nm and 10,000nm) can be added to the set for $100 each.
Other Spectrometer Accessories
Hot Spectrometer Accessories!
Technical Information Request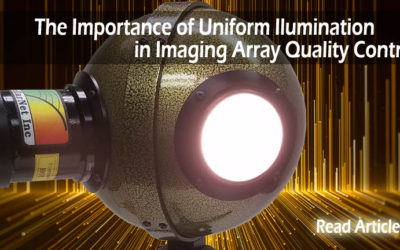 StellarNet, Inc. Tampa, Fl USA 10/15/2018 Array Detector Defects and Nonuniformities: All array detectors, both 1D and 2D, will inevitably suffer from defects and pixel-to-pixel nonuniformities due to the limitations of high-volume semiconductor manufacturing...
read more