Ultimate Portability using the light weight BP2 battery pack for field work.
Quadruple Outputs allows the user to power 2 spectrometers and 2 light sources simultaneously making it the perfect battery pack for field applications.
5500mA Hour battery that is rechargeable using the included universal AC adapter.
Long Life rechargeable battery pack BP2 provides over 10 hours of continuous spectral acquisition for NIRInGaAs spectrometer with TEC or 40 hours with TEC off or when using other spectrometer models.
Light Weight (1 lb) Lithium-Ion battery pack can power any StellarNet spectrometer, including the TE coolers of the BLACK-Comet, SILVER-Nova, Raman, and any DWARF-Star NIR spectrometer.
High Precision DC Regulators supply a constant 5 and 12 volt power output throughout the battery live cycle; which is critical for long-term spectral measurements and saves your notebook power
Technical Specifications
Battery Packs

Weight:
1.1lbs
Size:
7.5" x 4" x 1,5"
Charge Voltage :
+14.8 VDC input
Outputs:
2 x +5VDC & 2 x +12VDC
Battery Life @1 amp:
7.4 hours
Charge Time:
Approx. 3 hours
Other Spectrometer Accessories
Hot Spectrometer Accessories!
Technical Information Request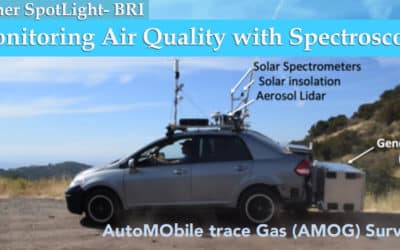 For air quality testing, Bubbleology Research International (BRI) provides a spectroscopic and in situ solution on a mobile platform that leverages the strengths of traditional sampling methods – the mobility of satellite measurements with the...
read more