StellarNet, Inc. is a Global provider of low cost compact spectrometers, systems, and software for product analysis, research, education, and OEM.  StellarNet instrumentation is research grade and rugged for any environment – lab, process, or field.
Spectrometer Systems in Stock and Fast Shipping!
Compact Spectrometer Technologies
Performance Advantages of Concave Grating Optics in Compact Fiber Optic Spectrometers
Jul 29, 2016 | News
Most plane grating optics utilize several mirrors in order to properly image the spectrum on the detector. With applications that require the use of UV light, especially UV-Vis absorbance, fluorescence, and solar radiometry, multiple mirrors can be detrimental to the performance of an instrument.  The use of a holographic concave grating can eliminate the sensitivity issues and provide other benefits including: stray light reduction, aberration correction, thermal stability, and improved ruggedness.
Modular Spectrometer Systems
Learn About Popular Light Measurement Applications
Integrated Analyzer Systems with "Open and Measure" Functionality
With a simple press of the "Analyze" button instantaneous chemical match results are displayed on your screen.
StellarNet Tutorial & Video Archive
StellarNet Spectroscopy Resource Center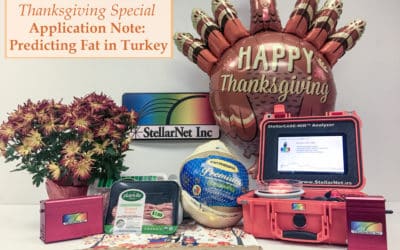 Why Turkey on Thanksgiving? These tasty birds are large enough that they can feed a table full of hungry family, and unlike chickens or cows, they don't serve much utilitarian purpose like laying eggs or making milk. Since the turkey is native...
read more
Our online shop allows you to purchase instrumentation in seconds. Most items are available "In Stock" and we offer expedited deliveries. Not only are spectrometers, light sources, and accessories available, but in addition our Technical Sales team has preconfigured systems for Color Measurement, LED Characterization, Fluorescence Chemistry, Raman, LIBS and much more.
FAST SHIPPING
Call us today at (813) 855-8687