CUV1 is a 4-way fiber optic cuvette holder used for transmission, absorbance, fluorescence, and color measurements in liquids. Includes 2 UV grade collimating lenses.  Custom lengths can be made for additional charge (see 5cm pathlength example)
CUV-F is a fiber optic cuvette holder for SL1-LED excitation with 2 collimating lens for measuring fluorescence. F600Y fiber included for dual pickup. Note: SL1-LED light source and spectrometer are also pictured.
CUV-TEMP is a temperature controlled cuvette holder for fluorescence, absorbance, or Raman measurements from -30 °C to +105 °C. Price includes qpod sample compartment, two imaging lenses, two collimating lenses, two mirror plugs, submersible pump, cover with access cap, tubing, cables and a stir bar.
Technical Specifications
| CUV1 | |
| --- | --- |
| Weight: | 1.1 pounds (500 g) |
| Size: | 4" x 4" x 2.5" |
| Spectral range: | 190 – 2200nm |
| Pathlength: | 1cm |
| Z height: | 15mm |
| Collimating Lenses: | 2 LensQ-Col (4 lens mounts available in holder) |
| Connector: | SMA 905 |
Other Spectrometer Accessories
Hot Spectrometer Accessories!
Technical Information Request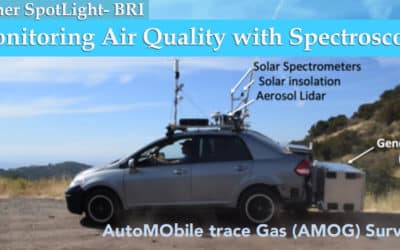 For air quality testing, Bubbleology Research International (BRI) provides a spectroscopic and in situ solution on a mobile platform that leverages the strengths of traditional sampling methods – the mobility of satellite measurements with the...
read more