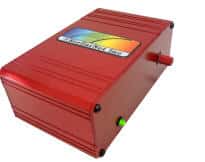 NIR Measurements in the 900-1700nm range
Spectral resolution down to 1nm for certain models
Miniature size 5x3x2″ with rugged, compact design
Integrated thermo electric cooler set to operate at -15 deg C
Complete Software Development and Integrated Chemometrics options
For NIR portable and OEM applications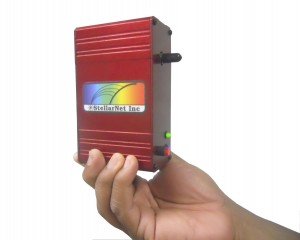 The StellarNet DWARF-Star NIR spectrometers are fiber optically coupled instruments with a wide selection of models for measurements in the 900-1700nm wavelength range achieving resolving resolutions down to 1.25nm.
High performance InGaAs detectors from Sensors Unlimited are installed in each DWARF-Star with options for 512 or 1024 linear pixels. Each pixel is 25μm by 500μm tall to provide maximum sensitivity. The detector has an integrated thermo electric cooler (TEC) maintained at –15 degrees, stabilized within +/-0.1 °C (optional 2-stage cooling is available).
Various models provide a choice of grating range and slit resolutions. New and improved electronics with a high speed 16-bit digitizer allows for fast data acquisition and a signal to noise of 4000:1!  Includes 10x electronic gain mode.
Ruggedized–  The detachable spectrograph assembly and control electronics are protected inside a rugged metal enclosure, suitable for portable, process, lab, and field applications.
Multi-unit connection can be daisy chained together and are able to run simultaneously.
USB powered directly from your PC's USB port.  DWARF-Star spectrometers come with integrated TE coolers which can be activated with 5VDC power adapter included with each system; however, many applications can be ran without cooling.
Onboard Memory with pre-set calibrations and spectrometer settings and snap shot memory to provide instantaneous spectral image.
High Speed Electronic Interface can be attached directly to a computers USB port for data transfer or zAP2 upgrade for wifi control.
Many Options & Upgrades– The DWARF-Star spectrometer platform supports a variety of options and upgrades such as TTL triggering options, zAP 1 & 2 electronics upgrades for increased dynamic range, burst acquisition, and onboard CPU with Wifi communication.  See more information below under DWARF-Star options.  ContactUs@StellarNet.us for more info.
StellarNet also offers light sources, probes, and sampling accessories to facilitate virtually any NIR application. The miniature DWARF-Star NIR spectrometer is ideal for process analytical technology for industries such as food and drug, chemical, oil and gas, and plastics. The DWARF-Star's miniature size, low cost, and rugged design also make it ideal for the field, enabling on-site product analysis and quality control never before attainable.
DWARF-star
Models
Number of Elements
Spectrometer   Range (nm)
Grating      (g/mm)
Grating Range (nm)
Dispersion (nm/pixel)
Estimated Resolving Resolution
NIR
512
900-1700
250
800nm
1.25
2.50nm
NIRb
512
1000-1700
300
650nm
1.00
2.00nm
NIR2
512
1250-1575
600
325nm
0.50
1.00nm
NIR2b
512
1150-1475
600
325nm
0.50
1.00nm
NIR
1024
1000-1700
600
700nm
0.62
1.25nm
Specifications                       DWARF-Star NIR Spectrometer   $13,125                     OEM Pricing available
Dynamic range:                    4000:1 with 5 decades
Dimensions:                            5″x3″x2″
Resolving resolution:            2.5nm with 25μm slit
Power consumption:               1.5 Amps @ 5 VDC
InGaAs Detector:                 512 or 1024 pixels
Interface:                                USB-2
Detector range:                   900-1700nm
Data transfer speed:               40x faster than USB-1
Pixel size:                            25um x 500um
Detector Integration:               1 millisecond to 60 secs
Pixel well depth:                 130 x108 electrons
Slit size options:                      25μm
Selectable well control:       130 x108  or  5 x106 el.
Operating systems:                 Win XP, Vista, 7, 8, & 10
Signal to noise:                   4000:1 with TEC cooling
Software included:                  SpectraWiz programs & Apps
Digitizer:                             16-bit
Also free programs for:           LabView, Excel+VBA, Delphi
The SpectraWiz software is included to accurately measure wavelength emissions, reflectance, transmission, absorption, concentrations, and absolute intensities.
DWARF-Star Sample Spectra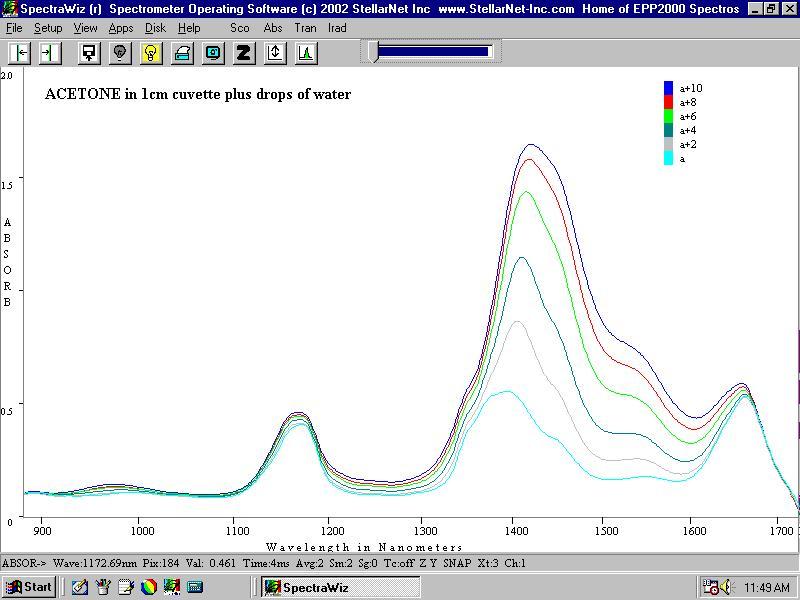 DWARF-Star NIR Spectrometer
SpectraWiz Software displaying a time series increase of NIR water absoprtion bands.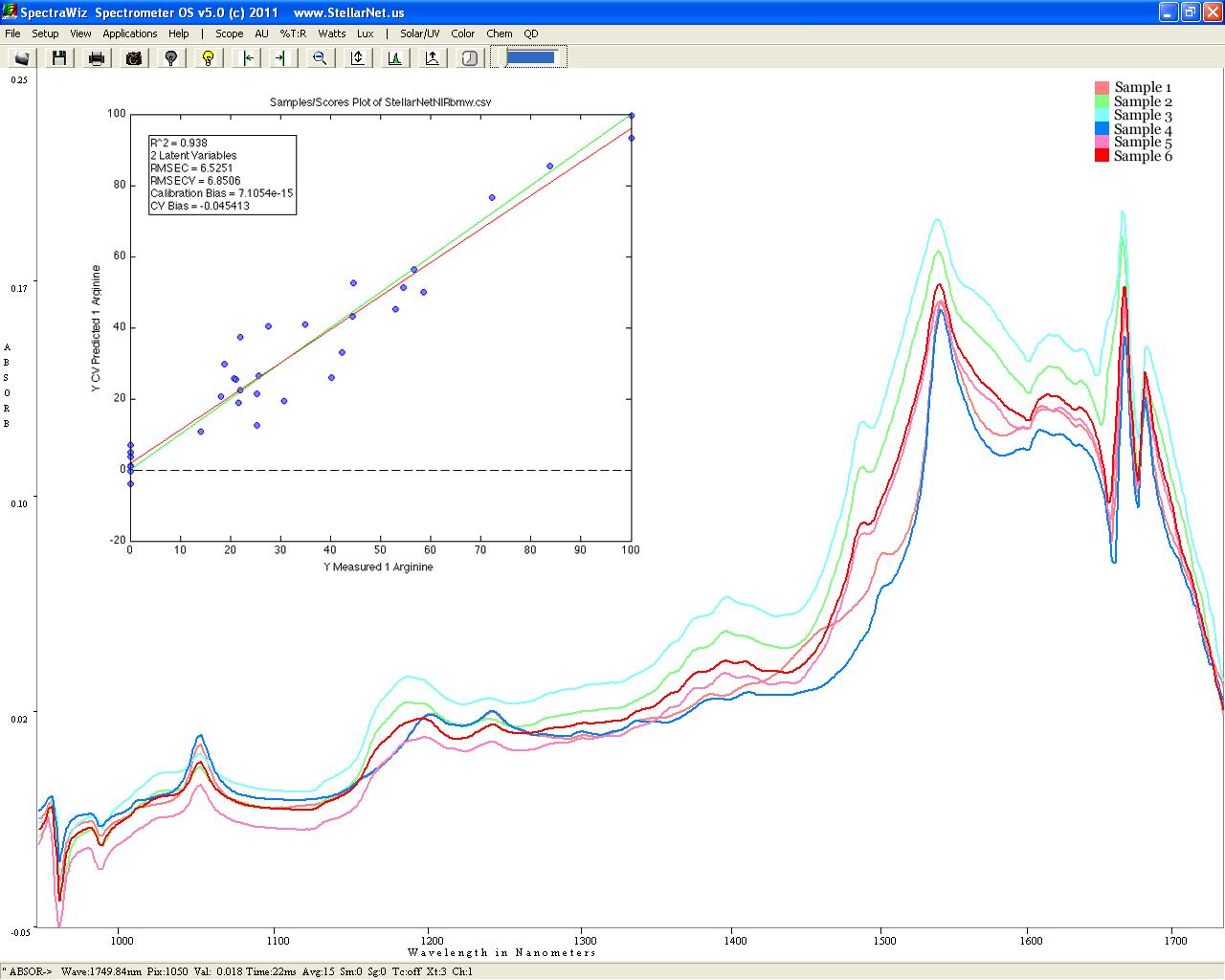 SpectraWiz software interface displaying raw NIR reflectance spectra of dietary supplement powders with inset multivariate calibration model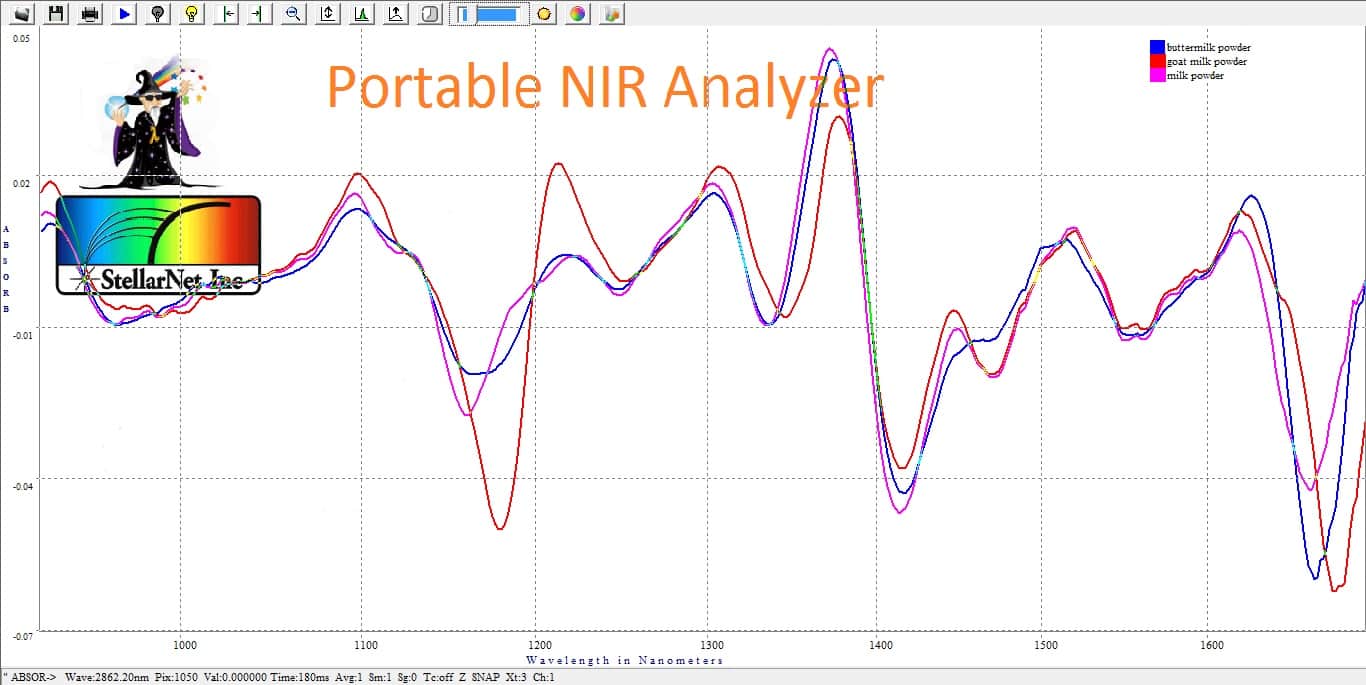 NIR spectra of Milk Powders
JACK 1-In Trigger
TTL input trigger to enable spectrometer scan $175

zAP1 Electronics Upgrade
zAutomation Processor 1 upgrade provides auto and user controllable spectral baseline and gain for maximized dynamic range and burst mode for high speed consecutive spectral capture. $350 (available currently on new spectrometers)

zAP2 Electronics Upgrade
zAutomation Processor 2 upgrade provides an integrated wireless cpu with Wifi access to spectrometer and/or control of application from smart phone. Programmable memory allows customization using popular python language. zAP2 upgrade can be added to new and most old spectrometers in the field.  Once added the spectrometer runs as normal receiving power from the computer's USB; if 5VDC power is connected directly to the BLUE-Wave the zAP2 CPU initializes and wireless communication begins. $550
Detector TEC Upgrades
Standard DWARF-Star models come with integrated 1-stage TE cooler for -15 degree cooling from ambient.  2-stage deep cooled options down to -30 degrees are also available.

The powerful SpectraWiz® spectrometer software is provided free of charge with every spectrometer instrument. This includes drivers and customizable software for Windows. The SpectraWiz software is considered the "Swiss Army Knife of Spectroscopy" and may be used to accurately measure wavelength emissions, reflectance, transmission, absorption, concentrations, and absolute intensities. In addition to real-time spectroscopy, SpectraWiz® has built-in applications for SpectroRadiometry, SpectroColorimetry, ChemWiz chemistry lab concentration analyzer, and UV level monitors.
Download SpectraWiz Software FREE
---
The system includes a high speed plug & play interface using USB-2 connection or Wifi control with zAP2 integrated CPU upgrade.
StellarControl™ SMART Box
New SMART Box converts USB to a variety of other signals such as Ethernet, SPI, R232, and much more.  Includes battery UPS for continued process monitoring.  Contact us for details.
Technical Information Request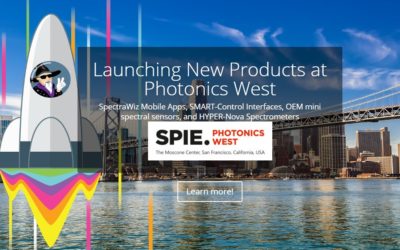 SpectraWiz Mobile Apps, SMART-Control Interfaces, OEM mini spectral sensors, and HYPER-Nova Spectrometers  Last week, StellarNet, Inc. revealed a variety of awesome new spectrometer products and features at the Photonics West conference in San Francisco...
read more