SMART-Control
Spectrometer Controller Accessory 
Screenshots from
Pre-loaded SpectraWiz Mobile
The SMART-Control device offers communication flexibility and application specific customization for any StellarNet spectrometer. This add-on interface includes an integrated CPU with 1GB RAM and many communication protocols such as RS232, SPI, 4-20mA Analog for PLCs, Digital I/O, Ethernet, Wifi and many other options. The SMART-Control allows customers to move their spectrometers into process or OEM environments and stream their selected real world data.
SpectraWiz Mobile Apps for the SMART-Control
Each Smart-Control will come preprogramed with our latest SpectraWiz Mobile App set written in Python. Using its local access point and your own mobile device, you can easily run applications for General Spectroscopy, Radiometry, Colorimetry, and Concentration analysis. Using the Set Export feature you can select which output protocol suits your requirements.
Included Application Specific Outputs
General Spectroscopy: wavelength; intensity value
SpectroRadiometry: total power; xy chromaticity; CCT
Colorimetry: L*;a*;b* values
Concentration: % concentration; absorbance; wavelength
All SpectraWiz Mobile Apps are included free and customizable Python scripts are available for in-app purchase.  StellarNet programmers can be contracted for additional customizations and modifications to meet your requirements.
UPS Battery Back-up
Each controller includes a 3 hours battery with UPS for online and process requirements.
Display Screen Upgrade
A 3.5" touchscreen display can be added to the controller to allow direct programing and unit display.
Technical Specifications
| SMART-Control | |
| --- | --- |
| Spectrometer Compatibility | BLUE-Wave, BLACK-Comet, SILVER-Nova, DWARF-Star, and all OEM modules |
| CPU: | xARM Cortex-A53, 1.2GHz |
| RAM: | 1GB |
| Supported Interfaces: | RS232, SPI, 4-20mA Analog, 26 digital I/O, Ethernet, I2C, and Wifi (other options available upon request) |
| Dimensions: | 5x3.5x2 |
| Power Consumption: | 5VDC @2.5A |
| Battery Life: | 3 hour |
| Included Mobile Apps: | General Spectroscopy, Radiometry, Colorimetry, and Concentration Analysis |
| Display Upgrade: | 3.5" Touchscreen for $495 |
Other Spectrometer Accessories
Hot Spectrometer Accessories!
Technical Information Request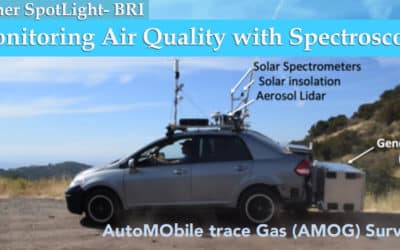 For air quality testing, Bubbleology Research International (BRI) provides a spectroscopic and in situ solution on a mobile platform that leverages the strengths of traditional sampling methods – the mobility of satellite measurements with the...
read more