StellarNet Reflectance probes can be used for a variety of applications including reflectance spectroscopy, colorimetry, back-scatter analysis and fluorimetry.  StellarNet offers a variety of different probe configurations and accessories for the highest throughput possible.  Our standard probe delivers 7 illuminating fibers wrapped around 1 central read fiber.   Typically the central fiber is 600um core while the illuminators are 400um. StellarNet also offers high throughput options that include 600um core illumination.  Probes are available for UV (Solarization Resistant), VIS-NIR, and broadband.  Another standard option is our dual read fiber probe that has 5 illuminating fibers and 2 read fibers.  ContactUs@StellarNet.us if you have a custom probe requirement.
R600-8-VisNIR is a Reflectance Probe for VIS-NIR with 7 optical fibers bundled around 1 600μm fiber. For reflectance measurements the 7 exterior fibers are illuminated by a high output power light source (SL1, SL3, or SL4) and the interior fiber is the read fiber that collects reflected light and returns the signal to the spectrometer. Buy Now!
R600-8-UVVIS-SR is a Reflectance Probe for UV and Visible wavelengths; 7 around 1 with 600μm fibers.
R600-Max upgrades to 6 600um core fiber optic illumination fibers for 3-4x signal gain.
RPH1 is a Reflectance Probe Holder block that maintains a 45 degree angle and user set distance from sample (0-3/4″).
RPH2 is a Reflectance Probe Holder block that maintains a 45 and/or 90 degree angle and user set distance from sample (0-3/4″).
RPH3 is a Reflectance Probe Holder stand for 90° angle measurements.
RTIP45 diffuse reflectance tip accessory that has 45 degree angle and slides onto reflectance probe and locks to set position.
RTIP-Lens reflectance probe lens tip accessory with focus to <1mm
RS50 is a 50mm diameter white reflectance standard made of Halon. It is used to take reference measurements using the R600 Reflectance Probes. The white standard will reflect >97% of the light from 300-1700nm. Buy Now!
Technical Specifications
| | |
| --- | --- |
| Weight | 0.22 pounds (100g) |
| Size (Probe) | 3.5" length 0.25" O.D. |
| Spectral range | 190 – 2200nm |
| Probe Tip Material | Stainless Steel |
| Temperature range: | 0 – 50 Deg C (High temp available) |
| Number of Fibers | 6:1, 7:1, or 2 read fibers |
| Connector | 2 x SMA 905 |
Other Spectrometer Accessories
Hot Spectrometer Accessories!
Technical Information Request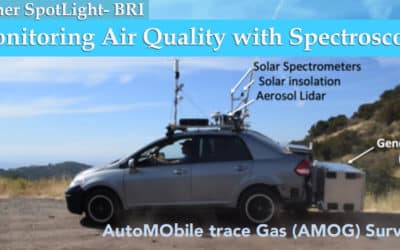 For air quality testing, Bubbleology Research International (BRI) provides a spectroscopic and in situ solution on a mobile platform that leverages the strengths of traditional sampling methods – the mobility of satellite measurements with the...
read more