Cosine Receptors couple to fiber optic cables and collect light with an 180° field of view using demountable diffusers. A perfect cosine response provides accurate absolute intensity when multiple lights are measured at same time. Cosine receptors provide relative and absolute spectral intensity measurements for emissive color applications and for evaluation of light sources such as the Sun, Lamps, LEDs and Lasers. View Price List
CR2 is a ¼" diameter UV-VIS-NIR cosine receptor which uses a polymer diffuser for 200-1700nm & 180° FOV.
CR2-RA is a 90° right-angle Cosine Receptor cube. Great for positioning underneath solar simulators or places where space is tight!
CR2-AP is a 10% aperture for the CR2 that extends the system dynamic range by an order of magnitude, thus enabling spectral measurements of sources that are 10 times brighter.
CR2-AD – 1/2″ External mounting ring for the CR2. Adapts and centers the CR2 into StellarNet 1/2″ nosecones such as those on the SL3-Cal and SL1-CAL UV & VIS-NIR calibration light sources.
Col-Tubes – Cosine receptor holder with field of view reducing extension tubes.  Can be used as a tripod or handheld pointer (gun) for the cosine receptor accessory.  Comes with a set of 3 field of view reducing "collimating tubes" with 10, 20, and 30 deg FOV.  Custom lengths also available.
CR-LENS is a cosine receptor lens assembly that reduces the field of view from 180 degrees to a small spot. Adjustable focus allows variable distance from target surface such as displays.
CR1-UVN is a 1/2″ diameter UV-VIS-NIR cosine receptor designed for use as a target surface for laser measurement. CR1-UVN can also be used as a general purpose diffuser (transmission approx 10%) for many applications.
CR2-OR is a CR2 with special O-Ring seal for underwater applications.
CR2-TP miniature tripod for mounting the CR2, CR1-UVN, or integrating spheres.
Cosine receptors are used in applications including laser & light source characterization, varieties of UV light emission, LED color and spectral intensity analysis, and solar irradiance measurements. Underwater applications are very popular and include aquarium lighting and solar light penetration in various aquatic environments.
Technical Specifications
| CR2 Cosine Receptor | |
| --- | --- |
| Wavelength: | 200-1700 nm |
| Diameter: | ¼" |
| FOV: | 180 Deg |
| Connector: | SMA-905 |
| External Threading: | 5/8″ 32 |
| Active Material: | White Polymer Diffuser |
| External Material: | Anodized Aluminum |
| CR2 RA | |
| --- | --- |
| Wavelength: | 300-1700 nm |
| Diameter: | ¼" |
| Connector: | SMA-905 |
| FOV: | 180 Deg |
| Size: | 2x2x2" |
Other Spectrometer Accessories
Hot Spectrometer Accessories!
Technical Information Request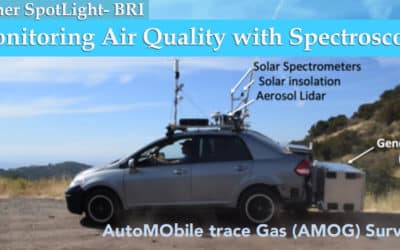 For air quality testing, Bubbleology Research International (BRI) provides a spectroscopic and in situ solution on a mobile platform that leverages the strengths of traditional sampling methods – the mobility of satellite measurements with the...
read more