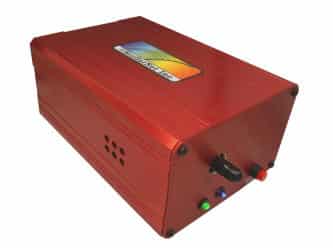 EXtended Range NIR Spectrometer
Measurements from 900-2300nm (0.90-2.30 um)
For NIR measurements and applications requiring wide spectral range
512 or 1024 pixel extended range InGaAs Photo Diode Array
Integrated 2-stage thermo electric cooler set to operate at -30 deg C
Increased air flow and specialized heat sink for added stability
Applications include absorption, transmission, and laser measurement.
StellarNet's high performance RED-Wave-NIRX-SR Spectrometers cover the NIR wavelength range from 900-2200μm in one unit. The spectrometers are exceptionally robust with no moving parts and are packaged in small rugged metal enclosure (2.75" x 4" x 6") for portable, processes, and lab applications. The InGaAs detector is a Sensors Unlimited linear photo diode array with 512 pixels (1024 optional) 25μm by 250μm tall to provide best signal performance. The detector has an integrated two-stage thermo electric cooler (TEC) maintained at –20 °C, stabilized within +/-0.1°C. The RED-Wave-NIRX-SR-InGaAs spectrometers use single strand SMA 905 fiber optic input.
Ruggedized – The detachable spectrograph assembly and control electronics are protected inside a rugged metal enclosure, suitable for portable, process, lab, and field applications.
Onboard Memory with pre-set calibrations, spectrometer settings, and snap shot memory to provide an instantaneous spectral image from the InGaAs array.
High Speed Electronic Interface can be attached directly to a computers USB port for high speed data transfer. Options for Wifi/ethernet communication available as well as other interfaces. ContactUs@StellarNet.us for more info.
NIR Applications include chemical absorption, moisture analysis, transmission of filter and optical components, and high power radiometric measurements such as laser characterization. Contact a StellarNet application sales engineer for any other application inquiries.
| | | | | | | |
| --- | --- | --- | --- | --- | --- | --- |
| InGaAs Model | Number of Elements | Spectrometer Range (nm) | Grating (g/mm) | Grating Range (nm) | Dispersion (nm/pixel) | Estimated Resolving Resolution |
| NIRX-SR | 512 | 900-2300 | 300 | 1400nm | 5.3 | <13nm |
| NIRX-SR | 1024 | 900-2300 | 600 | 1400nm | 2.7 | <7nm |
Specifications Zero defect 512 detector RED-Wave-NIRX-SR Spectrometer $18,995
Dynamic range: 4000:1 with 6 decades
Dimensions: 150 x 100 x 68.8 mm
Resolving resolution: 13nm with 25μm slit
Power consumption: 2 Amps @ 5 VDC
InGaAs Detector: 512 or 1024 pixel cooled PDA
Interface: USB-2 or Wifi2, RS2323, SPI3, 4-20mA3 , Digital I/O3 or ethernet3
Detector range: 0.9-2.3μm (900-2300nm)
Data transfer speed: 30Hz or 1000Hz1
Pixel size: 25um x 250um
Detector Integration: 1 millisecond to 200ms
Pixel well depth: 130 x108 electrons
Slit size options: 25um for optimum performance
Selectable well control: 130 x108 or 5 x106 el.
Operating systems: Windows and Linux2, Andriod2, iOS
Signal to noise: 12000:1 with 2x TEC cooling
Software included: SpectraWiz Program, WinSDK (C,C#,VB, Delphi), Customizable LabVIEW, VBA for Excel (CRI & LED Report)
Digitizer: 16-bit
1 zAP1 Electronics Upgrade 2 zAP2 Wifi + Applications Processor Upgrade with SpectraWiz Mobile Software3 SMART-Control Interface
RED-Wave-NIRX-SR Sample Spectra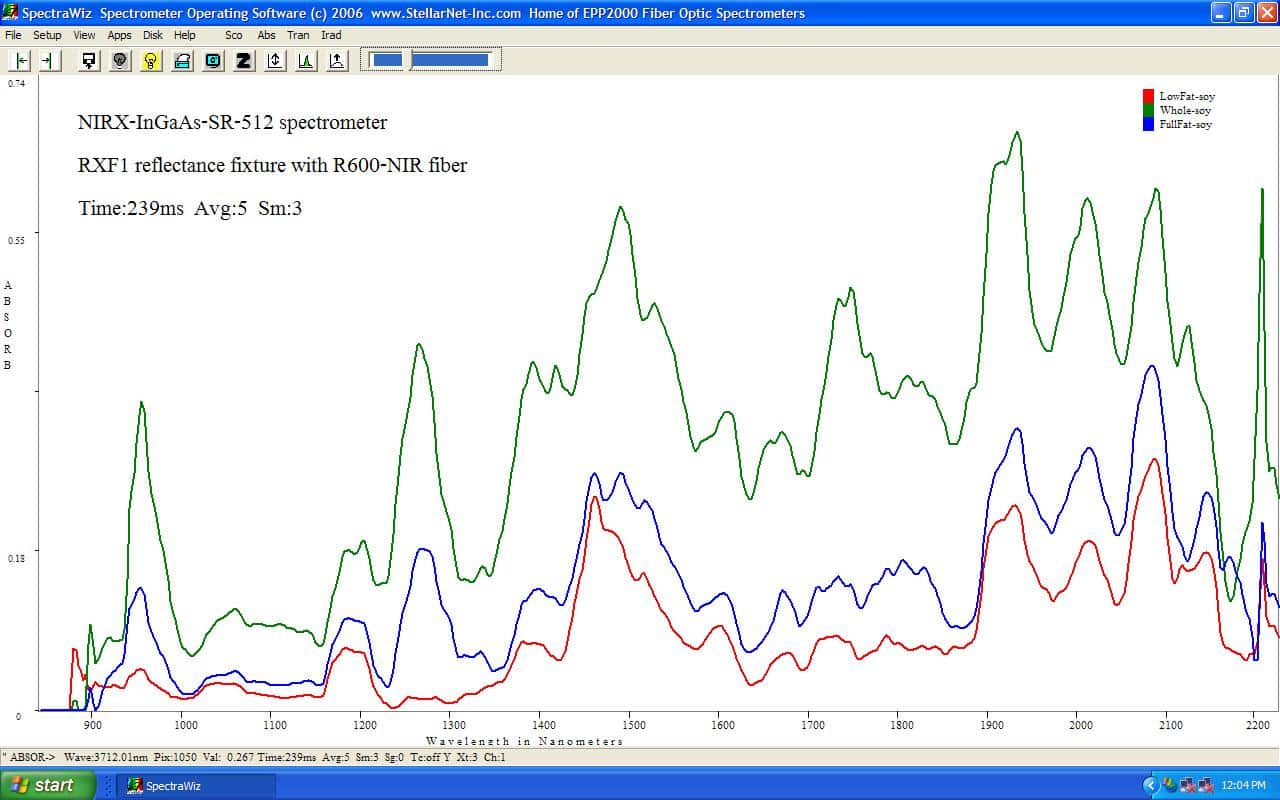 RED-Wave-NIRX-SR InGaAs 512 pixels spectrum showing spectral characteristics of Tylenol, Excedrin PM, and Ibuprofen tablets. Often NIR spectroscopy is used as a non-contact method to distinguish between coatings.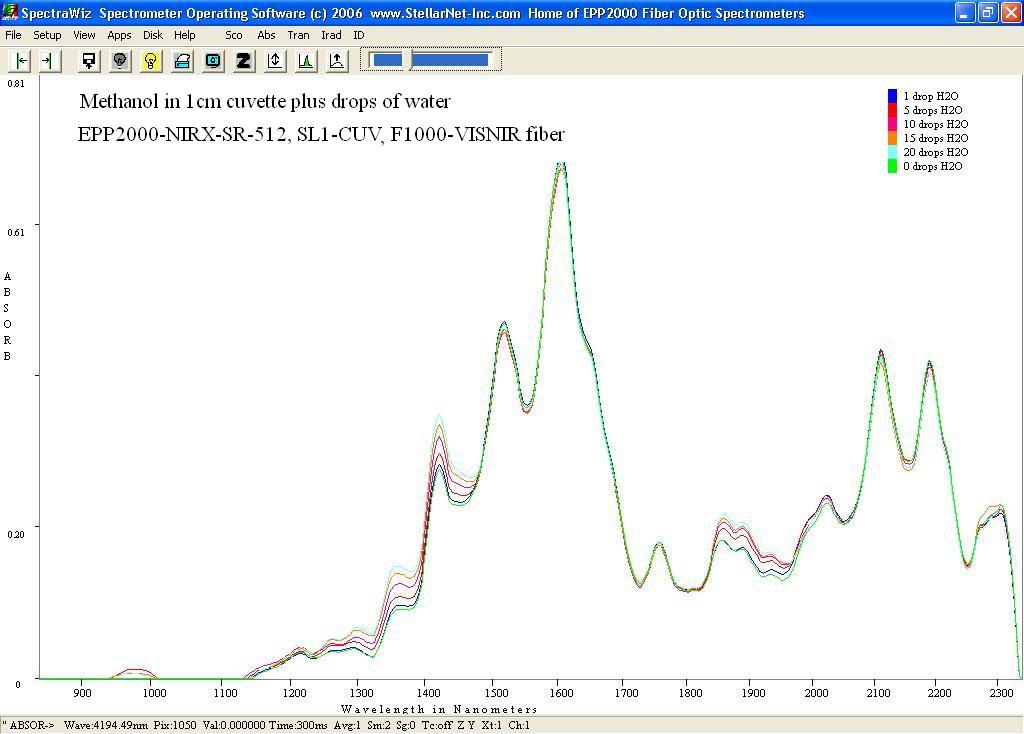 RED-Wave-NIRX-SR spectrometer with SL1-CUV tungsten halogen lamp with integrated cuvette holder, and a F1000-VIS-NIR 1000um diameter fiber optic cable measuring the NIR absorption of methanol in water.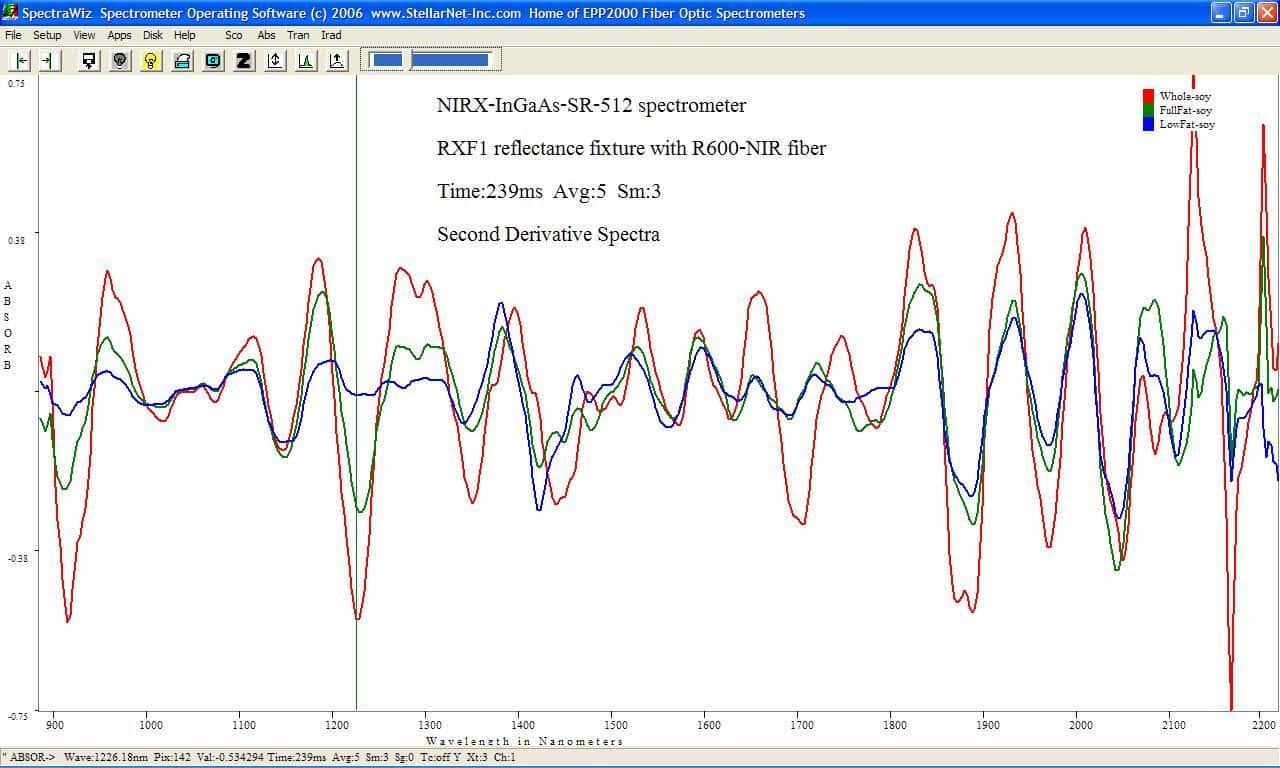 RED-Wave-NIRX-SR spectrometer with RFX1 reflectance fixture plotting NIR 2nd derivative spectra of soy products with varying fat content.
RED-Wave-NIRX-SR spectrometer with SL1 tungsten halogen lamp, TXF-4 transmission fixture, and two F600-VIS-NIR 600um diameter fiber optic cables measuring the transmission through PTFE and Lexan plastics. Above SpectraWiz spectroscopy software displays 2nd derivative spectra in real time.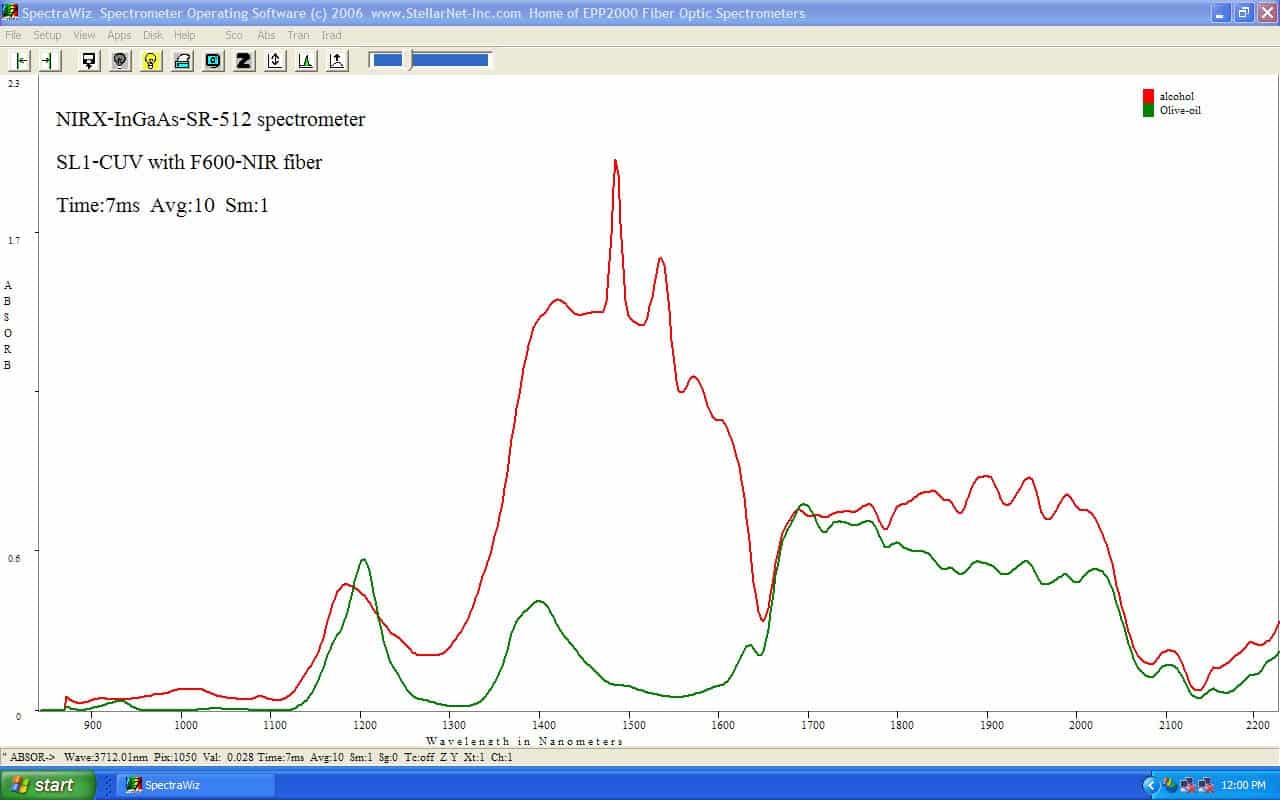 RED-Wave-NIRX-SR spectrometer with SL1-CUV tungsten halogen lamp with integrated cuvette holder, and a F600-VIS-NIR 600um diameter fiber optic cable measuring the NIR absorption of oil and alcohol solutions.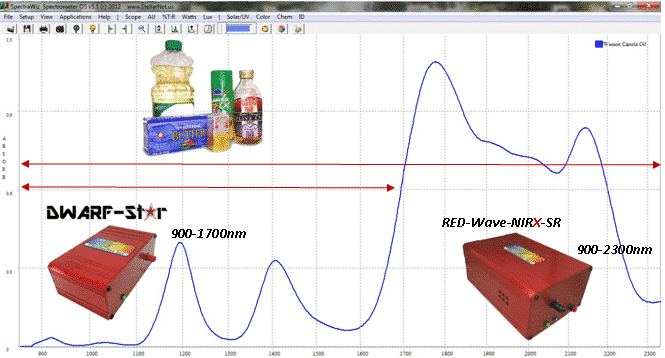 Fats and oils constitute the main source of energy and essential fatty acids in the human diet. Additionally, fats and oils function as lubricants in equipment and carriers of fat-soluble vitamins and pigments. Exploring the NIR past 1700nm allows us to identify some of the more important spectral feastures of fats and oils. Above is a spectrum of the StellarNet low dark Noise NIRX (900-2300nm) showing important spectral features past 1700nm such as Fatty Acids absorbance bands at 1750nm and oil saturation absorbance at 2100nm.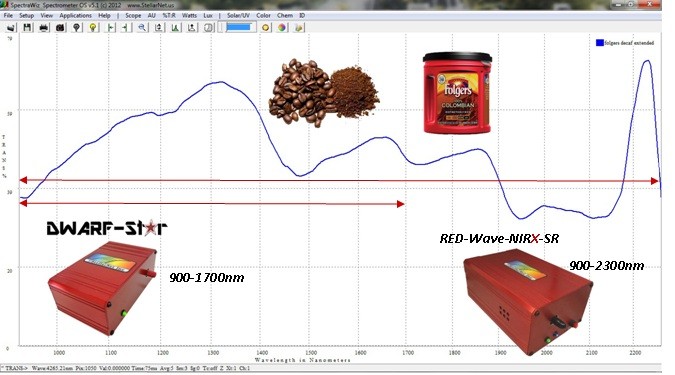 Coffee in addition to many other agricultural products shows very important spectral characteristics past 1700nm. Commercial coffee is mainly made up of two main blends, Arabica and Robusta. Main distinguishing absorptions can be found from water content (1466nm and 1962nm) and lipids. NIR spectroscopy can be used for classification as well as blending. Also, caffeine and dry matter content can be determined. For food quality control and identification of adulterants it is very important to test all parts of the NIR region.
Dual System Configurations
All NIRX-SR units can be coupled with StellarNet's BLACK-Comet or UVN-SR units to cover the entire 200-2300nm range. Coupling the units can provide you with quick analysis of color in the visible spectrum and additionally compound analysis though compound fingerprint identification in the near infrared spectrum.
JACK 1-In Trigger
TTL input trigger to enable spectrometer scan $175

zAP1 Electronics Upgrade
zAutomation Processor 1 upgrade provides auto and user controllable spectral baseline and gain for maximized dynamic range and burst mode for high speed consecutive spectral capture. $350 (available currently on new spectrometers)

zAP2 Electronics Upgrade
zAutomation Processor 2 upgrade provides an integrated wireless cpu with Wifi access to spectrometer and/or control of application from smart phone. Programmable memory allows customization using popular python language. zAP2 upgrade can be added to new and most old spectrometers in the field. Once added the spectrometer runs as normal receiving power from the computer's USB; if 5VDC power is connected directly to the DWARF-Star the zAP2 CPU initializes and wireless communication begins. zAP2 comes pre-programmed with the latest Spectroscopy Mobile App software and StellarNet Linux Driver set. $550
zAP2 Specification Sheet | zAP2 User Manual
Multi-Spectrometer Configurations
Units may be daisy chained via USB-2 hub allowing simple configurations for dual and multi-beam process applications. 8 spectrometers can be operated at once!
Free SpectraWiz Software

The powerful SpectraWiz® spectrometer software is provided free of charge with every spectrometer instrument. This includes drivers and customizable software for Windows. The SpectraWiz software is considered the "Swiss Army Knife of Spectroscopy" and may be used to accurately measure wavelength emissions, reflectance, transmission, absorption, concentrations, and absolute intensities. In addition to real-time spectroscopy, SpectraWiz® has built-in applications for SpectroRadiometry, SpectroColorimetry, ChemWiz chemistry lab concentration analyzer, and UV level monitors. Download SpectraWiz Software FREE
---
---
SpectraWiz MobileTM App Software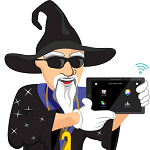 StellarNet introduces the new SpectraWiz Mobile Application Software designed to run directly on the zAP2 or SMART-Control spectrometer interfaces and connect directly to mobile devices. Using the local access point or Wifi you can easily log in and run applications for General Spectroscopy, Radiometry, Colorimetry, and Concentration analysis.
The easy to use applications are written in python and provided free with purchase of a zAP2 or SMART-Control spectrometer upgrades. In-app purchases allow users to download source codes, which can be further customized to suite each user's requirements. OEM customers can add their logos or additional computations and industrial customers can set their spectrometer and stream their data to PLCs or other process monitoring platforms. SMART-Control devices support RS232, 4-20mA Analog, 26 pin digital I/O, Ethernet, I2C and other options available upon request.
Standard Interface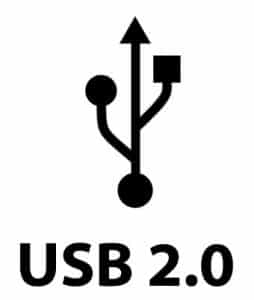 The system includes a high speed plug & play interface using USB-2 connection.
zAP2 Wifi Interface Upgrade
zAutomation Processor 2 (zAP2) electronics upgrade provides integrated wireless cpu with Wifi access to spectrometer. Programmable memory allows customization using popular python language. zAP2 comes pre-programmed with the latest Spectroscopy Mobile App software and StellarNet Linux Driver set.

SMART-Control Interface Upgrade
The SMART-Control device offers communication flexibility and application specific customization for any StellarNet spectrometer. This add-on interface includes an integrated CPU with 1GB RAM and many communication protocols such as RS232, SPI, 4-20mA Analog for PLCs, Digital I/O, Ethernet, Wifi and many other options. The SMART-Control allows customers to move their spectrometers into process or OEM environments and stream their selected real world data. $1500
Technical Information Request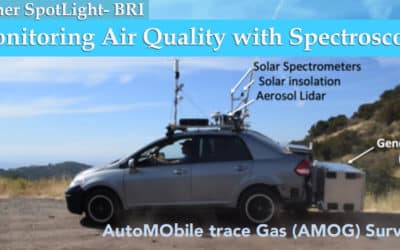 For air quality testing, Bubbleology Research International (BRI) provides a spectroscopic and in situ solution on a mobile platform that leverages the strengths of traditional sampling methods – the mobility of satellite measurements with the...
read more