StellarNet introduces a low cost line of research grade fluorescence systems designed for a wide range of applications requiring high sensitivity measurements of powders, liquids, and surfaces. StellarNet, inventor of the miniature fiber optic concave grating spectrometer, has configured systems specifically for low-light applications and, as always, StellarNet instrumentation is built modularized, compact, and rugged for field, process, or lab environments. |

The BLACK-Comet miniature, concave grating spectrometer is the main component of the system and is preconfigured with high throughput optics, low noise circuit design, and an ultra-sensitive detector array with for extreme low-light level detection from 200-1100nm. These concave grating instruments have ultra low stray light and enhanced sensitivity due to their superior grating technology. As opposed to the industry standard Czerny Turner optical design used in most miniature spectrometers, which employ mirrors and a plane grating, the BLACK-Comet's concave grating is the sole element in the optical grating design, thus reducing the amount of surfaces in the light path. Scattered light is thus drastically reduced to 0.02% at 435 nm and 0.2% at 200 nm. The BLACK-Comet grating has an f-number of f/2 which provides nearly 4-5 times the system light collecting ability compared to competing models with f-numbers of f/4 and f/5. Additionally, the aberration corrected grating provides broadband uniform resolution and excellent spectral shapes. An integrated thermo electric cooler (TEC) can be added to the detector array to maintain -10 °C from ambient and achieve a +/-0.1 °C temperature stabilization increasing the S/N ratio by 60% at long exposure times, thus dramatically enhancing the instruments dynamic range. These design optimizations make the BLACK-Comet-TEC concave grating spectrometer one of the premier miniature spectrometers for low light detection available.

StellarNet fluorescence systems are rugged and shock-proof with no moving parts and are suitable for field applications, factory and industrial conditions; even perfect for a standard laboratory benchtop!

Excitation Sources
With the emergence of low cost narrow band LEDs, StellarNet is now offering a multitude of different LED wavelengths to suite your specific excitation application. StellarNets' SL1-LED excitation source is ideal for Fluorescence measurements. The light source includes the SL1-Blue plus an LED kit consisting of 6 Visible range LED's and a White LED with many UV LEDs available. LED's can be swapped without any wiring changes - just pull one out and push the next one in!




StellarNet Accessories- LED kit emission spectrum using BLACK-Comet spectrometer. LEDs are available for many excitation wavelengths

UV-VIS & Fluorescence Measurements
- low stray light concave gratings optics allow Deep UV measurements
- Concave gratings provide uniform resolution over 190-1100nm
- LED excitation source for low cost alternative to laser or bandpass filters




Powder Lanthanide complex luminescence using BLACK-Comet spectrometer and R600-8-UVVIS-SR fluorescence probe with 7 optical fibers bundled around 1 600μm fiber. For fluorescence measurements the 7 exterior fibers are illuminated by a high output excitation source such as our SL1-LED and the interior fiber collects light emission and returns the signal to the spectrometer. Inline filters can be added to the system to remove excitation frequency artifacts.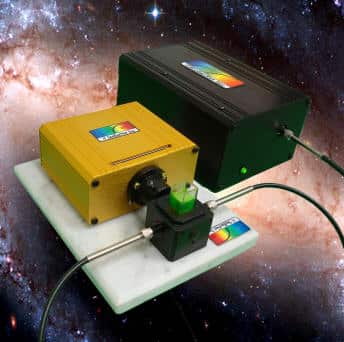 Experimental Fluorescence Setup
Using BLACK-Comet-TEC Concave Grating Spectrometer, CUV-F cuvette holder, and SL1 excitation source. CUV-F is a fluorescence fixture that includes a large base to accommodate the SL1-LED excitation source. Includes 600 micron Y-fiber for dual pick-up for x2 signal gain in fluorescence detection.

StellarNet Measurement and Setup Diagrams
Quick Facts-BLACK-Comet
Concave grating provides high sensitivity

Consistent resolution throughout wavelength range (due to flat field created by special concave grating)

No mirrors for lowest possible stray light

Extremely rugged with no moving parts

Shock-proof durability and permanent alignment

Miniature size, low cost, portable instrumentation

Battery pack options for field measurements

Simple USB2 interface to notebook & desktop PCs
Concave Grating Spectrometers

Detectors
The units have an integrated data digitizer with a 65,000 count magnitude for any detector integration period. The detector can be selected to integrate from 1 milliseconds to 60 seconds, extending the detection limits for small signals. An integrated thermo electric cooler (TEC) can be added to the detector array to maintain -10 °C from ambient and achieve a +/-0.1 °C temperature stabilization increasing the S/N ratio by 60% at long exposure times, thus dramatically enhancing the instruments dynamic range.



Fluorescence Accessories
StellarNet systems also include high efficiency fluorescence probes for solids, powders, and surfaces, and cuvette holders and flow cells with dual fiber optic pickup for liquid samples. Additional NIR spectrometers can be coupled to the system for extended range and detection to 1700nm.



Spectroscopy Software
The SpectraWiz Spectroscopy Software is included for real-time spectral analysis, episodic spectral capture, ChemWiz concentration analysis, and has applications for Colorimetry, Radiometry and OES spectroscopy. Look for StellarNet concave grating based fluorescence systems for your next fluorimetry application!

Power and Interface
The instruments are constructed in a small rugged enclosure, with a fiber optic SMA connection on the front panel. Portable spectrometers have an easy to use plug and play interface with USB-2 connection.