StellarNet, Inc. a global provider of low cost compact spectrometer instrumentation, releases a 2-stage thermoelectric detector cooling option for their Raman and SILVER-Nova spectrometers, making them among the most sensitive compact spectrometers on the market.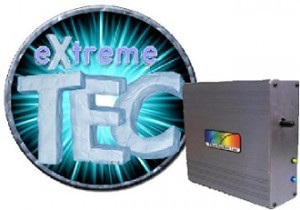 This add-on eXtreme cooler lowers the temperature of the CCD to 30 degrees below ambient and increase instrument S/N drastically by reducing noise over 80% at long exposures. This 2-stage eXtreme TEC upgrade improves low light measurement quality and detection limit capability for Raman, Fluorescence, and other weak light emission applications. Thermoelectric detector cooling improves the stability of the detector for lengthy measurements where thermal noise can distort and override signal.
In order to achieve such low temperatures the 2-stage eXtreme TEC add-on includes a new sealed and isolated detector enclosure with specialized heat sink and air flow design for added stability and cool operation. Add-on your eXtreme TEC today for just $2,950! ContactUs@StellarNet.us for a quotation or get in touch with your local StellarNet representative.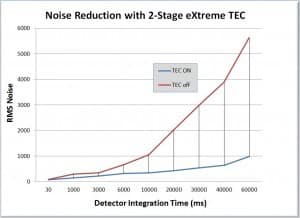 StellarNet-PR-2-Stage-eXtreme-TEC-for-Raman-and-SILVER-Nova-Spectrometers