CUV1 is a 4-way fiber optic cuvette holder used for transmission, absorbance, fluorescence, and color measurements in liquids. Includes 2 UV grade collimating lenses.  Custom lengths can be made for additional charge (see 5cm pathlength example)
CUV-F is a fiber optic cuvette holder for SL1-LED excitation with 2 collimating lens for measuring fluorescence. F600Y fiber included for dual pickup. Note: SL1-LED light source and spectrometer are also pictured.
CUV-TEMP is a temperature controlled cuvette holder for fluorescence, absorbance, or Raman measurements from -30 °C to +105 °C. Price includes qpod sample compartment, two imaging lenses, two collimating lenses, two mirror plugs, submersible pump, cover with access cap, tubing, cables and a stir bar.
Technical Specifications
| CUV1 | |
| --- | --- |
| Weight: | 1.1 pounds (500 g) |
| Size: | 4" x 4" x 2.5" |
| Spectral range: | 190 – 2200nm |
| Pathlength: | 1cm |
| Z height: | 15mm |
| Collimating Lenses: | 2 LensQ-Col (4 lens mounts available in holder) |
| Connector: | SMA 905 |
Other Spectrometer Accessories
Hot Spectrometer Accessories!
Technical Information Request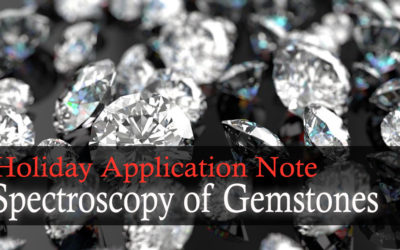 Tis the Season! A Diamond is Forever? You're about to ask the biggest question of your life, on one knee, in front of her entire family, on Christmas Eve. You're nervous. Your mind starts to go to the dark places… Are you sure that sparkly rock...
read more