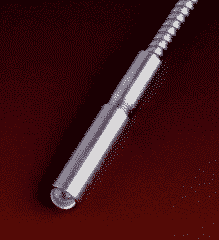 StellarNet offers a low-cost, rugged, SATR (Sapphire Attenuated Total Reflection) probe that is ideal for use in an industrial process environment.
Extreme Temperatures & Pressures – It is capable of operating at temperatures from -50°C to 300°C and at pressures up to 1200 psi. This outstanding performance is achieved by using Kalrez® O-ring seals.
Micron Pathlength for Concentrated Samples – The sapphire ATR probe is a three-bounce design, which affords a total path length of approximately 1.5 microns. This attenuated total reflection probe is specifically designed for measuring highly absorbent samples. The probe can be inserted directly into the sample for spectral measurements without sample dilution such as analysis of pure inks, dyes and crude oil samples
UV-VIS-NIR Wavelength-  Sapphire allows response down to 220nm in samples with an index of refraction up to 1.5, as well as offering excellent resistance to chemical attack.
Rugged for your Process – The optical fiber is 400-micron core fused silica and is clad in stainless steel armor. If needed, the armor can be sealed with Teflon® to provide a barrier to the environment. A four-inch extension tube is added to the rear of the probe to allow direct insertion into a process stream. The extension tube can be adapted to the customer's process connection requirements.
Technical Specifications
| | |
| --- | --- |
| Probe Type | Attenuated Total Reflection |
| Wavelength Range: | 220-2500nm |
| Crystal Material: | Sapphire |
| Absorbance Pathlength: | Approx. 1.5um |
| Probe Length | 1.75" L X 0.5" OD |
| Extension tube dimension | 4" L X 0.5" OD |
| Probe Diameter | 12.7 mm |
| Probe Tip Material | 316 Stainless Steel |
| Temperature range | -50 to 280 deg C |
| Pressure Range | max 1200 psi |
| Seals: | Kalrez® O-ring (Teflon options) |
| Connector | 2 x SMA 905 |
Other Spectrometer Accessories
Hot Spectrometer Accessories!
Technical Information Request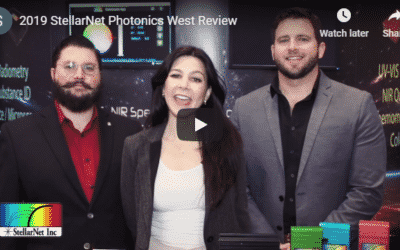 Earlier this month, StellarNet, Inc. revealed a variety of awesome new spectrometer products and features at the Photonics West conference in San Francisco Feb 2-7. Get your popcorn ready and watch some of our exciting updates which include SpectraWiz...
read more