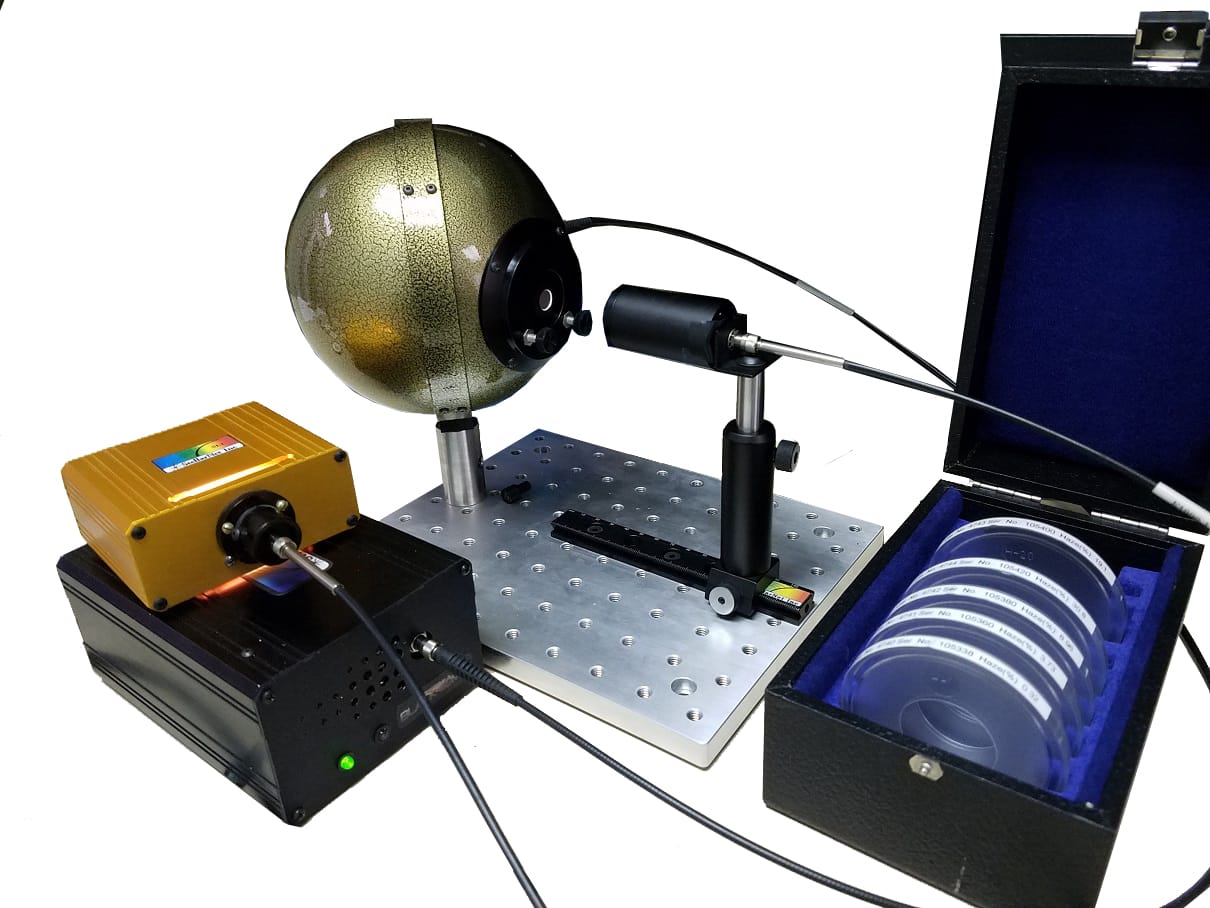 Haze Measurement System Features
Measure % Haze, % Total Transmittance, and color of films, filters, plastics, liquids, and just about any optical element
Haze meter include a fiber optic spectrometer, light source with integrated optical amplification and collimation lens, and custom haze measurement sphere with diffuse transmission port & sample clips
Measure all ranges from 0-100% Haze and Transmission with SpectraWiz L*a*b* CIELAB values
Custom StellarHaze Software for real time haze calculations
Research grade optical performance and repeatability
StellarNet announces a new preconfigured optical metrology system for total transmission and haze measurement.  The StellarHaze System includes a compact fiber optic spectrometer, light source with integrated optical amplification and collimation lens, custom haze measurement sphere with diffuse transmission port and sample attachment clips.  The sphere is mounted on a breadboard with alignment track for easy positioning. The haze meter comes complete with StellarHaze software for MS Excel that calculates transmission and haze at once while also displaying spectral curves over the 300-850nm spectral region.
The appearance of transparent materials can be tuned for their applications and can be quantified by their light scattering optical properties. The cloudiness or "haze" can be defined by the percentage of light transmission which deviates from an incident beam greater than 2.5 degrees.
Modular and Functional
The modular system can be quickly assembled for measurement or broken down and stored in a rugged instrument case. Additional accessories can be purchased for reflectance or other spectroscopy applications.
StellarHaze System can be useful for quality control and research for a variety of applications and sample types.  Here are a few:
Filters and plastic sheets
Thin Films and bags
Liquids via cuvette
Diffusing plastics for lighting
Automotive glass and windows
Beverages
Haze and Transmission Sample Spectra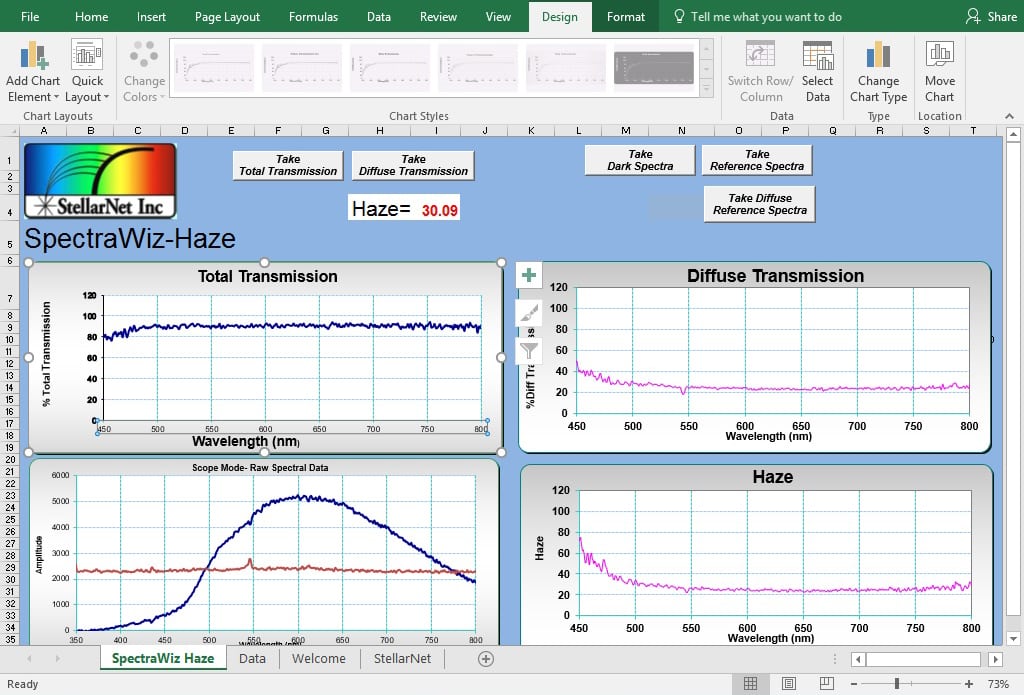 Haze Measurements of 30% verification standards.  The haze measurement requires 4 measurements (1) sample reference (2) sample diffuse reference (3) sample total transmittance (4) sample diffuse transmittance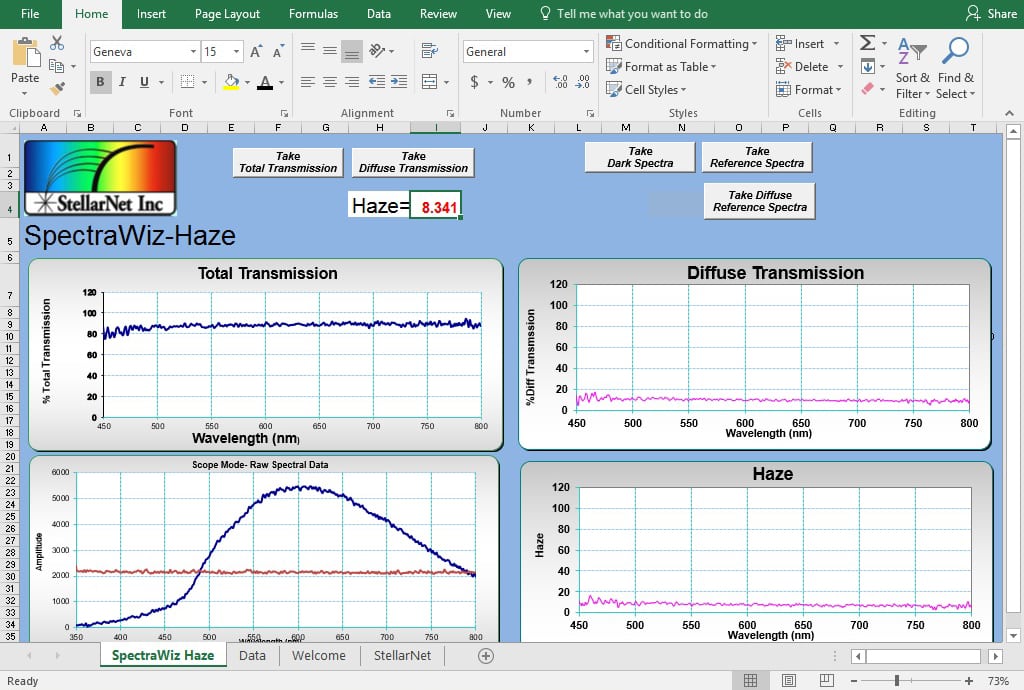 Haze Measurements of 8% verification standards
| | | |
| --- | --- | --- |
| Item |  StellarHaze-Haze Specifications | Price |
| StellarHaze System | StellarNet optical transmission and haze measurement system includes a compact spectrometer, fiber optic light source, and integrating sphere designed with a haze diffuse aperture to allow comparison of total transmission to diffuse (>2.5 degrees). The system will also come with the SpectraWiz-Haze program that calculates haze values in real time and displays all spectra for easy viewing. | 14,895 |
Free SpectraWiz Software

The powerful SpectraWiz® spectrometer software is provided free of charge with every spectrometer instrument. This includes drivers and customizable software for Windows. The SpectraWiz software is considered the "Swiss Army Knife of Spectroscopy" and may be used to accurately measure wavelength emissions, reflectance, transmission, absorption, concentrations, and absolute intensities. In addition to real-time spectroscopy, SpectraWiz® has built-in applications for SpectroRadiometry, SpectroColorimetry, ChemWiz chemistry lab concentration analyzer, and UV level monitors. Download SpectraWiz Software FREE
Software is included to provide CIE 1976 L* a* b* (CIELAB) color coordinate data for measurement and tolerancing. The L* (L star) is a measure of Brightness. The a* and b* are the color coordinates that range from -90 to +90 in the CIELAB color space "circle". For a* (a star), -90=green and +90=red. For b* (b star), -90=blue and +90=yellow. To perform color tolerancing, a standard sample is measured and saved for future comparisons. A Delta E* value is then calculated to show the color differences with other samples. Double beam and multi-beam color monitors for continuous industrial process monitoring are configurable by adding additional channels.
Transmission Fixtures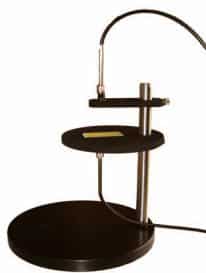 TXF-4 includes two collimating lenses which allows the sample to be oriented vertically as shown above. The standard fixture allows a variable pathlength from 0 to 7cm. Custom posts can be designed to increase pathlength.  Interchangeable parts allow the TXF-4 to be easily converted into the RPH-3 using the same base and stand.

TXF-IC2 Vertical transmission fixture with variable path length, includes 1 collimating lens and 1 miniature 2″ integrating sphere with 5/8″ port.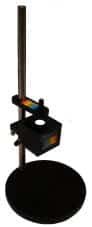 The integrating sphere collector is useful when measuring the transmission of thick samples such as bulletproof glass or samples with curved surfaces such as lenses.

Reflectance Accessories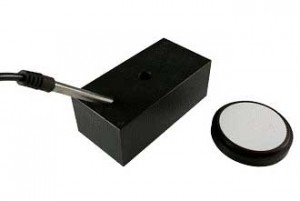 The RPH Reflectance Probe has 6 illuminating fibers and 1 read fiber bundled together. As an option, the2R probe has 5 illuminating fibers and 2 read fibers. Fibers are offered in 400μm and 600μm diameters. The RS50 is a 50mm diameter white reflectance standard made of Halon. It is used to take reference measurements using the R400 Reflectance Probe. The white standard will reflect >97% of the light from 300-1700nm.
See more of StellarNet's Reflectance probes and standards information!!!
StellarNet's RFX-2 for Color Measurement Applications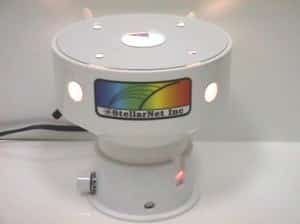 Reflectance fixture has integrated light source to enable facile color measurement of solids and powders by placing sample on top.
Fiber Optic Cables
Ruggedized, multimode fiber optic cables are available with SMA-905 connectors, ¼ inch diameter. steel mono-coil armor with black PVC jacket. Sizes include 400, 600, or 1000μm core diameters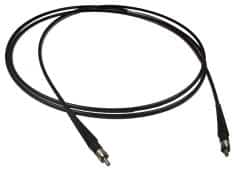 Optical Metrology Standards


RS50 is a 50mm diameter white reflectance standard made of Halon. It is used to take reference measurements using the R400 Reflectance Probe. The white standard will reflect >97% of the light from 300-1700nm

RS-HR High-reflectivity Specular Reflectance Standard is a mirrored,fused-silica standard that can be used as a reference when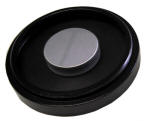 measuring surfaces with high specular reflectance such as optical substrates, coatings, and metals
Technical Information Request
DS Wright, N Demandt, JT Alkema, O Seehausen… - Journal of Evolutionary …, 2016 Local adaptation can be a potent force in speciation, with environmental heterogeneity leading to niche specialization and population divergence. However, local adaption often requires...
read more